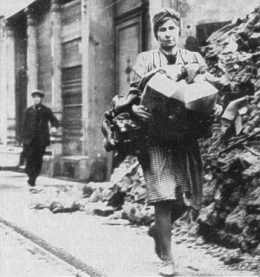 Advising me on cars--Honda Fit (Jazz) vs. Toyota Yaris--my Dad just informed me that his mother, my grandmother, fell a few weeks ago. She only broke a couple of ribs, but she was pretty confused when he visited her in the hospital, so that his wife very quickly found her a room in an assisted living facility nearby. She is well over 90, and her apartment will be dissolved within the next few weeks.
My Oma and I do not get along. She never was a warm person, and even my mother's admonitions that she "just can't help it. She had a tough life" never made me like her. Yeah, she had a tough life, but so did millions of others who lived through the war. It's true, it probably wasn't much fun to raise a kid (my Dad) as a divorcee in the prude post-war period. Still... in some ways, she lived a very emancipated life. She bought an apartment, and she spent her last decades cruising the world--literally. When I was a kid, she constantly seemed to be on the go to some outlandish place, traveling in these scary buses and sleeping in coffin-like beds onboard. We never had much of a connection and now, it seems, we never will.
Oh, and the woman in the picture is not my Oma, but she might as well be.